Xylem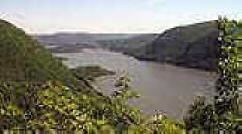 Construction Management

& General Contractor
In the Hudson Valley Call (845) 229-0044
investment, Investors, Real estate, construction, construction management, manager, general contractor, builder, Hudson valley, New York, Dutchess county, home, improvements, renovations, kitchens, bathrooms, additions, builder, handicap, fire damage, water damage, estimator, cm, construction manager, REO, real estate owned by bank

investment, Investors, Real estate, construction, construction management, manager, general contractor, builder, Hudson valley, New York, Dutchess county, home, improvements, renovations, kitchens, bathrooms, additions, builder, handicap, fire damage, water damage, estimator, cm, construction manager, REO, real estate owned by bank
The Villa Serena
the former Payne Stewart residence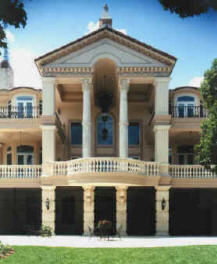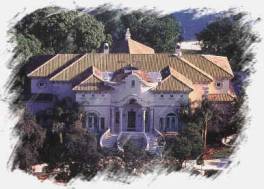 A Palm Beach Revival style home based on classical Villa form. Symmetry, ideal proportion, traditional materials combine for a gracious, elegant statement. Approximately 12,000 SF on three levels (2 1/2 visible from front, 3 on rear facing lake), 4 car garage, one elevator. Two guest suites, exercise, wine gallery, den, playroom, billiard and darts on ground floor. Principal entry is 1/2 level up from entry court from horseshoe grand stairs. Elliptical twin grand stairs in foyer lead to private bedroom suites (4) upstairs. Formal level has living, dining, great room, kitchen with breakfast area, butler pantry, trophy room, utility. Elevator private to master suite. Balconies on rear. 14' floor to ceilings on formal level, 12' ceilings on third floor. Stunning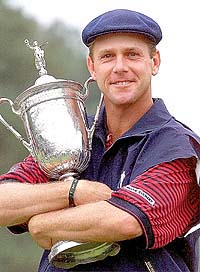 In Memoriam: Payne Stewart
"The Payne and Tracey Stewart residence is probably my best work. It was a joy working with them both. He would always finish our design sessions with a smile, firm handshake, and the inevitable: 'always a pleasure!'. I would leave their home with a glow in my heart and an equally broad smile. Our thoughts and prayers are with Tracey, Chelsea, and Aaron." JH
THE ARCHITECT
John Henry Architect AIA insists on a "...close collaboration with the client -- a shared vision, that moves from planning, functionality and budgeting to a final expression of flawless massing, studied proportion, and meticulous detailing, where the skillful handling of materials invokes a timeless composition, a true work of art."
Good Morning America's Home Improvement Editor Ron Hazelton combed the nation for the most beautiful and original houses he could find and profiled his top picks.

In the traditional gothic style but with all the amenities of the modern day, this is one home you won't want to miss!
Graceful arches and columns both inside and out help to distinguish this incredible home. The use of stone and marble in contrast with exquisite wood floors and hand-carved wooden details give this home a feeling of both warmth and formality at the same time.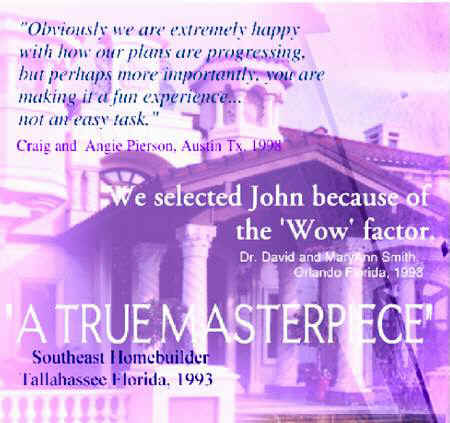 As we finish Ron's five-day "Dream Home Tour," we come to an elegant, Gothic-style mansion nestled in the quiet beauty of pine and oak trees. The goal of the design team was to create a regal yet comfortable structure. Inside the home, arches and columns outline passageways. Exquisite wood floors contrast with stone and marble. Stone and plaster details flourish. So do the hand-carved stained wood and synthetic materials that are cleverly woven together in a style that maintains the home's classical theme. The overall effect is an easy flow of space that permeates through the entire house. Deliberately-spaced windows and doors can be opened during the summer months to allow cool breezes from the nearby lake. Despite its formal stance, the house feels like home.