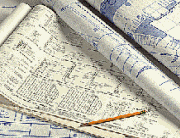 CUSTOM BUILT

· HOMES · ADDITIONS · RENOVATIONS
From the Concept to the completion "Since 1978" !
In the Hudson Valley Call (845) 229-0044

Click picture to see floor plan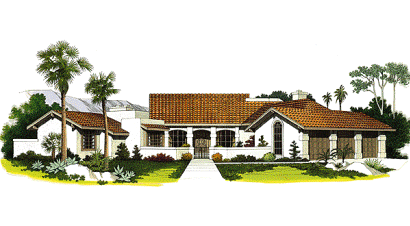 # RM2922 Square Footage - 3505 Square Feet Bedrooms/Baths - 3/2½
FirePlaces - 3 Width x Depth - 110'7"W x 66'11"D
Touch Rendering for floor plan. Drawn directly from classic Spanish styling that was so popular in the early West, this home hums to the strum of a softly played guitar. Designed for wide-open spaces, it is loaded with custom features. There's an enormous sunken gathering room which connects to a cozy study with a warming fireplace. The dining room is connected as well and opens onto a private eating terrace. The country-style kitchen contains an efficient work area, as well as space for relaxing in the morning room and sitting room. Two nice-sized bedrooms and a luxurious master suite round out the plan. The master suite is of real interest. It features a fireplace with an alcove and a built-in sitting area; an enormous dressing room with walk-in closets for him and for her; a skylit whirlpool tub; and a private terrace.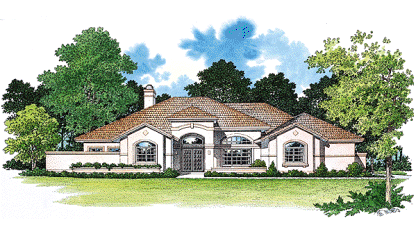 # RM3475 Square Footage - 3286 Square Feet Bedrooms/Baths - 3/3½
FirePlaces - 2 Width x Depth - 77'4"W x 74'8"D
Touch Rendering for floor plan. There's something uniquely captivating about Spanish design. A colorful, tiled, hipped roof offers contrasts, with varying roof planes and wide overhangs. The sheltered front entrance is both dramatic and inviting with double doors opening to the central foyer. In the sunken living room, a curved, raised-hearth fireplace acts as a focal point. Double glass doors lead to a covered terrace. The U-shaped kitchen is efficient with its island work surface, breakfast bar, pantry and broom closet. An informal nook features a projecting bay and high ceiling. This generous, open area extends to include the family room. Opposite the more formal living room is the separate dining room, which looks out on the garden court. Notice the complete separation of the parents' and children's bedrooms.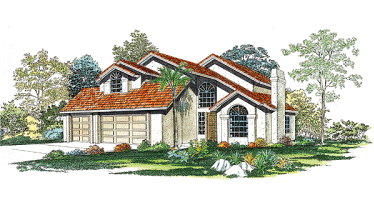 # RM3429 Square Footage - 3115 Square Feet Bedrooms/Baths - 4/3
FirePlaces - 1 Width x Depth - 57'4"W x 63'6"D
Touch Rendering for floor plan. Beautiful stucco styling is enhanced further by the many gables and long, sloping rooflines on this two-story home. It's a larger home--perfect for families or those with extended families who are living in. Formal living areas (the living room and dining room) have a casual counterpoint in the family room and glassed-in breakfast room. The kitchen is a hub for both areas and also serves the dining room. A first-floor study has an adjacent bath, making it a convenient guest or mother-in-law suite when needed. The second floor has three bedrooms and an activities room with an audio-video center for the kids. The master suite is raised from its entry by two steps, as is the huge master bath. A bayed sitting room lends special interest to this already sumptuous suite.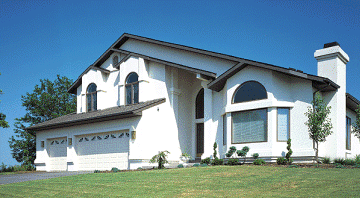 # RM3414 Square Footage - 3168 Square Feet Bedrooms/Baths - 5/3½
FirePlaces - 2 Width x Depth - 57'0"W x 64'0"D
Touch Rendering for floor plan. Wrought in sunny stucco and planned for two stories, this Florida-style design gives you all the room you seek. The two-story entry connects directly to a formal living-dining area--note the bay window, fireplace and sloped ceiling in this formal space. A curved staircase leads around to the family room (with another fireplace) and open kitchen with bayed breakfast room. The covered patio just beyond opens this area even further. Split-bedroom planning puts the master suite on the first floor for supreme privacy. His and Hers walk-in closets, a whirlpool tub and dual vanities spell luxury for the owner's retreat. Upstairs are three family bedrooms, a guest room with a deck and two full baths.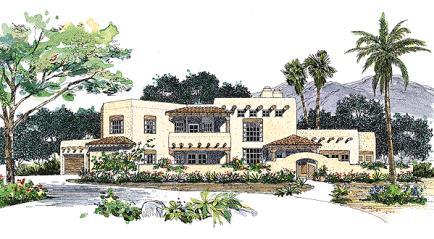 # RM3407 Square Footage - 3328 Square Feet Bedrooms/Baths - 4/2½
FirePlaces - 4 Width x Depth - 104'9"W x 62'5"D
Touch Rendering for floor plan. When early explorers talked of searching for the Seven Cities of Gold, what they found were communities of homes that created the basis for this distinctive Santa Fe design. Stucco, rounded corners, balconies, vigas and an in-line plan are characteristics. On the first floor: a large two-story gathering room with a beehive fireplace; a gallery leading to the kitchen and breakfast area; a media room with a full entertainment center, and a master suite with special appointments and a nearby study. The second floor contains three bedrooms, each with a huge closet. A full, compartmented bath is shared by the three. A quiet reading loft, with built-in bookshelves, finishes this floor. Outdoor areas abound: a full covered patio with a built-in barbecue to the rear; two covered porches at the front, and a private patio just off the study.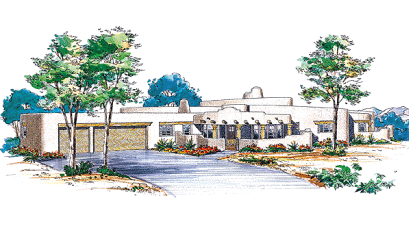 # RM3434 Square Footage - 3428 Square Feet Bedrooms/Baths - 4/3½
FirePlaces - 4 Width x Depth - 120'0"W x 86'0"D
Touch Rendering for floor plan. Need a place for three or four children to have a room of their own? Need extra space for guests or in-laws? This Santa Fe-style plan strikes a beautiful combination of historic exterior detailing and open floor planning. Formal living and dining rooms are complemented by a large casual area containing a family room, a morning room and a kitchen. All are warmed by a circular hearth that extends outside. Three family bedrooms are found on the right side of the plan, as is a bonus room--perfect for hobbies, games or an additional bedroom. The master suite is on the left side of the plan, adjacent to a handy home office. Note the extra-large laundry area.